Become a Member of E.S. Wagner Company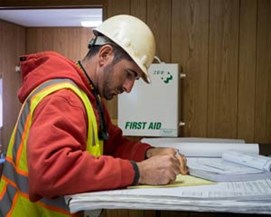 At the core of E.S. Wagner Company's success is our team of highly qualified and experienced professionals.  Our innovative and safe construction practices, along with our continued growth, have made us an employer of choice in the construction industry.  We don't just say we're a team, we operate like one.    
Are you ready to work with one of the most advanced and innovative construction firms in the U.S.?  Do you focus on continuous growth both at the personal and organizational level?  Are you committed to  safe work practices?  Do you desire to work in an environment that rewards achievement? If so, perhaps it's time you became a member of E.S. Wagner Company.
Internships/Co-ops   
As a general contractor serving a diverse group of public and private clients, E.S. Wagner Company  offers a multitude of opportunities for students and recent graduates to gain valuable hands-on  experience in a variety of field and management applications. You'll be working side-by-side with some of the most experienced and respected professionals in the construction industry.  Moreover, you'll be  working with state-of-the-art technology and equipment.    
Beyond gaining critical skills in the fundamentals of construction and construction management, you'll  have the opportunity to demonstrate your qualities and strengths as an individual.  An internship/co-op with E.S. Wagner Company is a great opportunity to begin your career as a leader in the field of construction.  
"I, personally, felt welcomed as a new member of E. S. Wagner because everyone was friendly and approachable; again, making the transition process from student to professional worker less daunting.  Furthermore, having clear cut expectations in terms of work ethic and employee conduct made our first days easier."
 - Austin W. Gregory, Co-op Engineer
U.S.  Military Veteran Opportunities 
E.S. Wagner Company appreciates the sacrifice our military veterans have made for our country.  We also recognize and value the training, skills, and experience gained from your time serving in the armed forces.  A career at E.S. Wagner Company will allow you to put your valuable military skills to use. 
Life at E.S. Wagner Company
We strive to continually grow our employees to best prepare them for future challenges.  Personalized career plans allow employees to explore their interests and while facilitating accelerated career growth.  We endeavor to ensure their success through added responsibility and challenging work. 
E.S. Wagner company employees are visible in our community.  We are involved in a variety of opportunities to make a difference.  Whether it is a charity walk or providing for families in need, our employees take pride in helping those in our neighborhood. 
Benefits 
With you and your family in mind, E.S. Wagner strives to provide competitive pay and benefits packages. We offer a wide range of benefits such as: health and dental insurance, 401(k) with company match, life insurance, flexible spending accounts, educational assistance, travel incentives, paid vacations, and holiday shutdown. Specific benefit information can be provided by human resources.